Developer
Minicades Mobile
Released on
Feb 7, 2015
Updated
Nov 22, 2023
Size
190M
Version
3.15.2
Requirements
8.1
Downloads
50,000,000+
Get it on
Description
Stock Car Racing offers different fast and exciting racing environments for players. You can compete against other people on difficult tracks. It also uses a high-quality 3D graphics engine that makes the game look very realistic. The game also has an interactive environment that lets players have a lot of fun. Furthermore, nearly every occurrence in the game is centered around online interaction. This means that players will constantly have chances to compete against one another for fantastic prizes.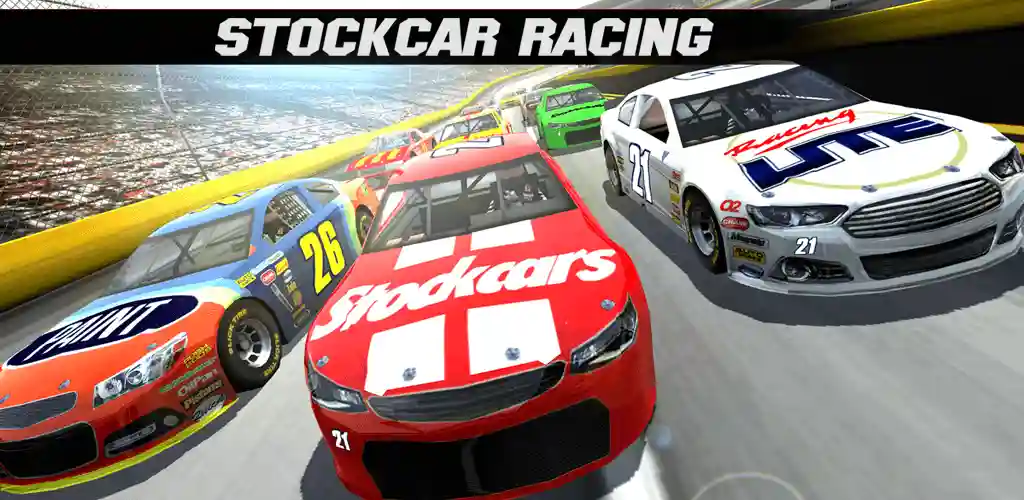 RACE MODES :
Multiplayer – Race head to head against other players in realtime.
Regulation – Race and set the difficulty for higher prizes.
Ladder – Race 10 laps against progressively faster opponents for increasing prizes.
Endurance – Race the full 400 lap distance.
Hot Lap – Set your fastest single lap on the leaderboard!
Practice – Practice racing lines and setup your car for race trim.
CARS:
Choose 18 different cars from the golden-era, super trucks right up to the modern-era stock cars.
EXPERIENCE THE SPEED
Feel your car on the absolute limit of adhesion around 1 to 4 mile banked oval tracks. Earn in-game cash to buy, upgrade, repair and adjust your Stock Car. Qualify to unlock new tracks for increasing prize money.
REALTIME MULTIPLAYER RACING
Race your friends, win prize money and championship points to make it onto the online leaderboards.
MULTIPLE TRACKS
5 unique tracks night and day from a 1 mile short oval to a 4 mile super speedway.
REAL CRASH PHYSICS
Simulated car-damage with sparks and smoke for a more realistic racing experience.
CUSTOMISE YOUR STOCKCAR
Design your Stock Car with team colours, hood decals and racing numbers in the Paintshop.
UPGRADE YOUR STOCKCAR
Engine, tires and chassis increasing your car's overall performance.
SETUP YOUR STOCK CAR
Allows you to Advance tune adjust your tyre pressures and suspension setups on your car for race trim.
REAL SIMULATION
Visually stunning 3D graphics and realistic physics.
RUBBER-BANDING ASSIST
Helps gets you back into the race quicker.
EARN IN-GAME CASH
Based on finishing position and calculated each lap round, the higher you place the more you earn.
What's new
MAJOR UPDATE!
-New Wreckable cars with realistic crashes and removable stock car panels. Experience the big one with huge crashes, realistic damage and flying debris. See hood, bumpers, doors and more fly off!
-new garage with 6 new divisions for easy navigation helping you find your next stock car.
-Over 50 new cars
-refreshed menus for easier navigation
Images