Developer
ViNTERA.TV
Updated
Jun 19, 2023
Size
30M
Version
3.1.581
Requirements
Varies with device
Downloads
1,000,000+
Get it on
Description
ViNTERA TV is a popular online service for watching TV channels. The service offers up to 400 Russian and foreign TV channels in more than 20 languages. Download and watch your favorite TV shows wherever you are! Available on all Internet-compatible devices.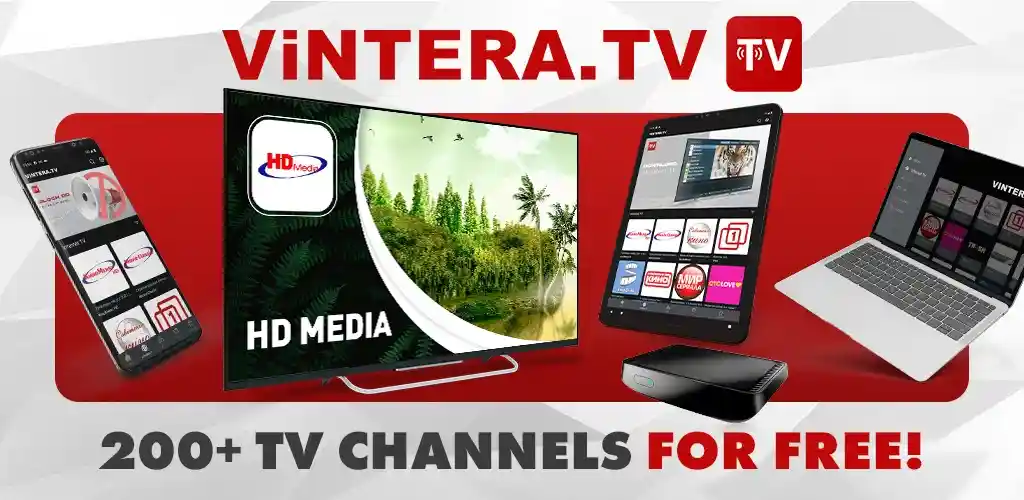 Why ViNTERA.TV?
The number of TV channels varies by country, provider and device.
Online TV channels of the service broadcast movies, shows, cartoons, humorous programs. We also offer you news, music and sports channels.
The following sections are available in the app: INTERNET TV, IPTV, TV +, FAVORITES, EPG, DISABLE ADS, SEARCH, SETTINGS.
In the IPTV section, subscribers of more than 6,000 providers and IPTV operators worldwide have access to TV channels of their local networks. Local IPTV/Internet providers can integrate TV playlists of their network into the IPTV section of the ViNTERA.TV app.
It is enough to provide a playlist (.m3u) and the range of operators' IP addresses to [email protected].
SUBSCRIPTION IN TV+ SECTION
TV channels in this section are collected in packages (Cinema TV, Active TV, Children's TV, Mix TV, etc.) on the most affordable terms.
Subscription to TV packages is possible for 1, 7, 30 days and 3, 6, 12 months. At the same time, the subscription price is lower, the longer the subscription period.
ELECTRONIC PROGRAM GUIDE (EPG)
A simple and convenient TV program (EPG) will always help you choose the content you are interested in.
LANGUAGE
TV channels in more than 20 languages are available in the app.
DISABLE ADS
It is possible to disable external ads for 1, 3, 6, 12 months. The cost is the lower, the longer the period.
USER-FRIENDLY INTERFACE
A simple and user-friendly interface in vertical and horizontal orientation of the app allows you to:
– put your favorite TV channels in the FAVORITES section in the order you need;
– set a convenient aspect ratio and screen size.
MULTISCREEN
This application is part of the international multiscreen OTT/IPTV ViNTERA.TV platform.
The service is available worldwide on all Internet-compatible devices.
Learn more at https://vintera.tv/en/.
CONTACTS:
Tel: +7 (495) 741-75-52
For cooperation: [email protected]
What's new
Updated UI design, bugs fixed.
Images