Developer
Lutech Ltd
Released on
Feb 20, 2023
Updated
Nov 3, 2023
Size
50M
Version
23
Requirements
7.0
Downloads
1,000,000+
Get it on
Mod Info
• Premium / PRO Features Unlocked;
• All Ads Removed (Except credit);
• Apk Fully Optimized;
• All debug Info Removed;
• CPU Arch: armeabi-v7a, arm64-v8a;
Description
Voice Changer by Sound Effects – funny voice changer app that can change voice into different voice effects and sound effects catalog. Touch the screen, use a variety of funny voice effects. If you want to have interesting, funny sounds, or shocking voices for your friends, then with super voice changer, you can create sound products with quality beyond what you want. Audio effects confirm the outstanding difference with funny voice effects which allows you to make the sound more rich and spacious. Just 2 steps to change voice effects easily.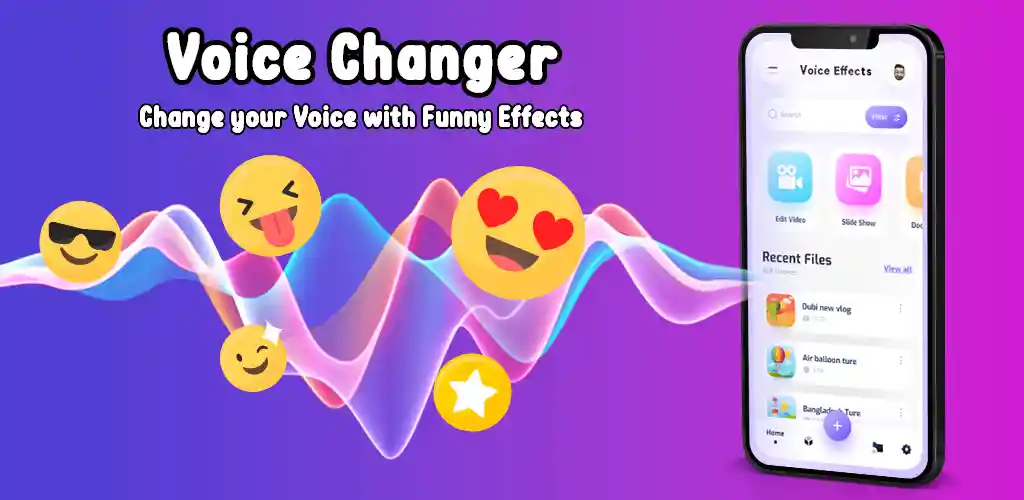 🔥Reasons for finding Voice Changer Pro🔥
✔ AI voice changer app makes meme voice modifiers for funny prank entertainment or making your friends laugh on April fools day. Professional voice changer app helps you have fun and relaxing moments with friends and loved ones. You can confidently sing funny songs you love with Karaoke effects by singing voice changer or sound recorder.
✔ Change the boss's voice to female and share this record voice with friends and colleagues
✔ Congratulate friends, relatives with a child's voice and change voices of colleagues
✔ Funny Voice Changer App support dubbing video posted on social networks
✔ For performances at matinees, skits. Any effect can be applied to any record voice or sound from voice changer recorder
✔ Smart Voice Changer, sound recorder, sound changer softwares for presentations and reports
✔ Converting long documents to sound
🔥Key functions & audio effects of Voice Changer App🔥
🎙 Voice Recorder Online – Sound Recorder
▪️ Easily record voice mod whenever and wherever possible to convert voice
▪️ Record voice yourself just by one touch, edit sound effects directly from those record voice or sound files and apply more sound effects quickly
▪️ High quality clear audio recorder online and change
🎙Amazing Sound Effects
▪️ All voice changer effects, music generation more than other apps: Female to male voice changer or reversos, robot voice, change voice with different special effects: Normal, Baby, Animals voice changer (Duck, cat, bee, monster, chipmunk, etc), Ambient sounds (Bar, Cave, Rain Sounds…) and diverse voice effects (Ghost Voice Changer, Alien Voice Changer, Drunk Voice Changer…). Download to try more funny effects catalog.
🎙 Import audio recorded or open music from files
▪️ Save time, users can import pre- recorded sound to use various effects and listen to music with bass booster
🎙 Edit Voice Changer by voice app, sound generator
▪️ Easy and fast voice editing, voice recordings and processing or you can open music to edit voice mod and sound music effects: change volume, adjust speed of sound (fast or slow). Audio Tuner Editor change echo of sound and volume level – from low to high; clarity
▪️ Provides tune, parameters of voice tone, and funny sound effects combined with environmental sounds to create interesting recordings, noise reduction
🎙 Text to speech conversion
▪️ Unique voice changer online allows you to automatically convert text to voice easily when chatting so you can troll friends with secret texts, message
▪️ Create voice text sounds for the global user experience, super voice changer application is operated in multi-language: English, Hindi, Spanish, Portuguese, German…
🎙 Store and search voice changer files
▪️ Funny Voice Changer android manages, shares easily
▪️ Save funny sound effects storage
▪️ Search files, delete files easily thanks to sorting saved files by created time or by name
🔥Support features🔥
✔ Set your audio file as ringtone, alarm, call voice changer and sms notification sound
✔ Share interesting audio versions quickly, prank friends with the changed voice audio via social media (whatsapp, e-mail, messenger…). Making voice modulator or funny video with interesting voice effects to share master voice changer online on YouTube video, TikTok etc
✔ Easily operate thanks to user-friendly interface
💌 Download on app store now. Contact us: [email protected]
Images