Developer
Andrey Efremov
Released on
Aug 12, 2018
Updated
Oct 29, 2023
Size
3M
Version
1.6.4
Requirements
4.0.3
Downloads
1,000+
Get it on
mod info
No root or Lucky Patcher or Google Play Modded required;
Disabled / Removed unwanted Permissions + Receivers + Providers + Services;
Optimized and zip aligned graphics resources for fast load;
Debug code removed;
Languages: Full Multi Languages;
CPUs: universal architecture;
Screen DPIs: 120dpi, 160dpi, 240dpi, 320dpi, 480dpi, 640dpi;
Original package signature changed;
Description
Wi-Fi Monitor+ by Andrey gives you Information about Wi-Fi connection, available networks, connected devices.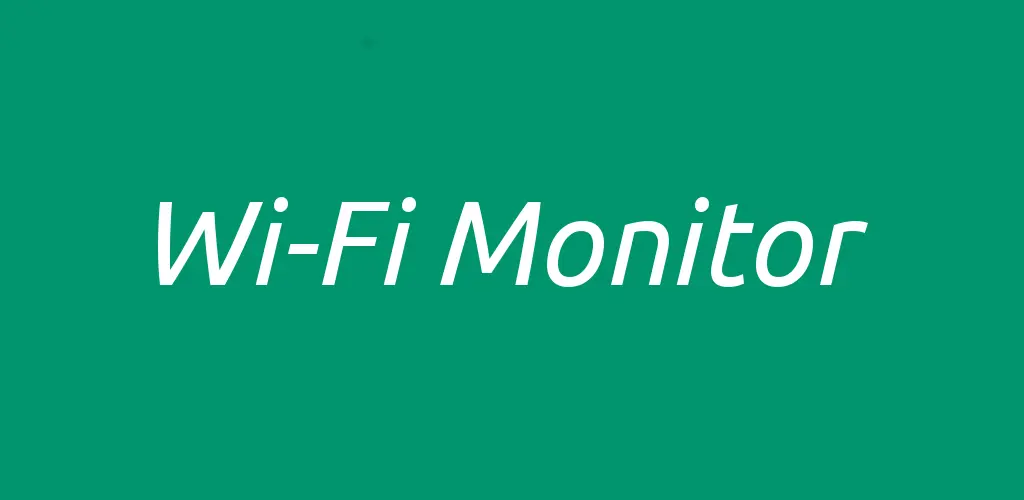 GENERAL
– the information about Wi-Fi connection
For getting a public IP address, press on internet/earth icon
NETS
– the list of available Wi-Fi networks
– Support filtering of results
– You can open details for net
CH 2.4/5.0
– the charts for available networks by channels grouped for 2.4 or 5.0 GHz
– you can switch to mode with channel width (used center freq for channel)
– you can pause updating
– support scaling by fingers or maximize by double tap
POWER
– chart with power for the net at a time interval
DEVICES
– the devices connected to your Wi-Fi network
– For quick scan press to devices item
– For deep scan press to refresh icon
– Try to detect hostname, router model
– Support filtering of results
– In menu options get vendor by mac
HELP
With new android releases added restrictions for work with Wi-Fi, if something doesn't work, read this help.
If your device doesn't show the netlist and android 6.0+, check that location permission is granted.
If permission is already granted, check that location turn on. Some devices with 7.0+ required it too.
If your device doesn't show the net name (unknown SSID), then your device needs permission and for the last android, release location turn on.
If not found devices in your network, press scan (or a deep scan for public network).
PRO VERSION
Theme
– Supports a light, dark and black theme, choose what you like.
In the free version, dark available for 2 weeks for the test.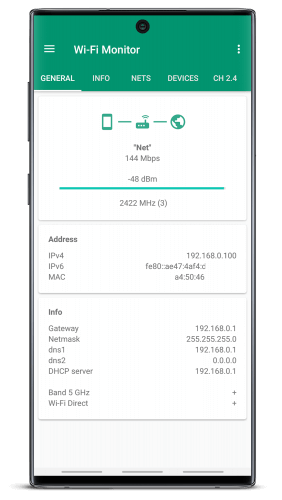 A report in the menu info center.
General info, nets, devices.
You can save info to HTML or PDF file format and open or share by email.
In the free version available test for 7 days.
Copy text by the long press in menu lists.
– Also this supports development to improve the app.
Requirements :
– Android 4.0.3 and above
Permissions :
– INTERNET is required for getting info about connection.
– ACCESS_WIFI_STATE is required for info about wi-fi connection.
– CHANGE_WIFI_STATE is required for active nets scan.
– ACCESS_COARSE_LOCATION is required for getting the list of available networks. For 6.0 and above.
– ACCESS_FINE_LOCATION is required for getting the list of available networks. For 10 and above.
– READ/WRITE EXTERNAL_STORAGE is required for report, open in the browser.
Images