Mod Info
Camera removed
Record audio removed
Ads patched/disabled
In app Banner removed
Ad permissions disable
Google billing removed
Ad permission ID removed
Receive cloud data removed
Applovin apphub service removed
All Applovin ad activity removed
Advertising ID Permission removed
Qonversion revenue platform removed
Description
Win7 Simu Mod APK is a Windows 7 simulator that will transport you back to one of the most popular operating systems by simulating the interface, functions, and full touch support.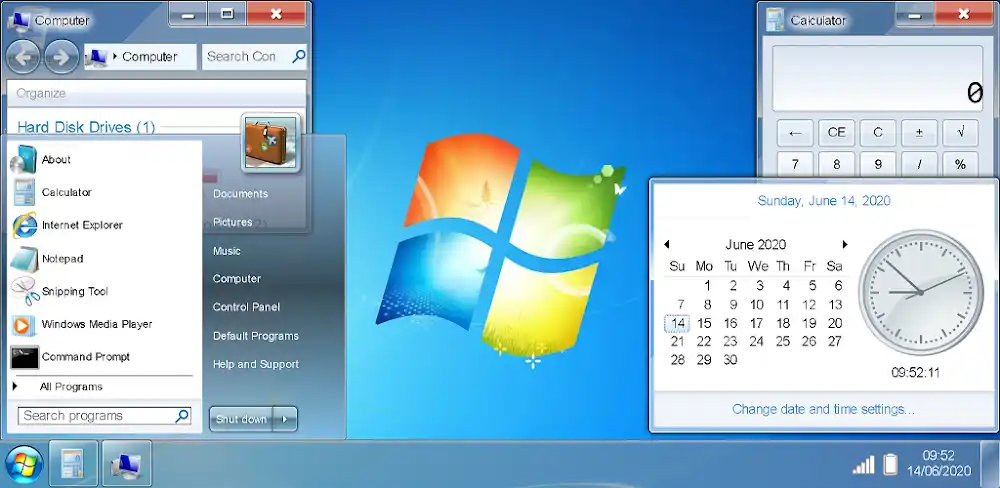 If you're looking for a way to relive the glory days of running Windows 7, one of the most widely adopted operating systems ever, go no further than Win7 Simu. The simulator mimics the interface and features and responds to touches. Users can experiment with Windows applications in the Win7 Simu simulator, including the desktop, windows, start menu, taskbar, personalization options, a calculator, Internet Explorer, Notepad, Snipping Tool, Media Player, and more. Win7 Simu, created by Visnalize, is a game that has nothing to do with Windows or Microsoft in any manner.
✔ Windows User Interface (Log on screen, My computer…)
✔ Interactive desktop, windows, start menu, taskbar
✔ Personalization
✔ Calculator
✔ Internet Explorer
✔ Notepad
✔ Snipping Tool
✔ Media Player
… and more for you to explore …
External links
🌐 Developer website: https://visnalize.com
❓ FAQs: https://visnalize.com/win7simu/faq
📺 Did you know: https://www.youtube.com/playlist?list=PLztkJSxlj5P76jbbySzGMBZ4reCYbSA5y
Disclaimer
Windows and its properties (images, icons, etc.) used in this app are copyrighted by Microsoft. Win7 Simu is in no way affiliated with Microsoft and is built solely for entertainment purposes.
What's new
v3.3.1
🐞 Fixed Chrome tab issue
--------------------------------------
v3.3.0
🎉 Improve performance of window animations
🎉 Added language support for: Arabic
🎉 Added Region and Language - you can now switch display language from within the app
🐞 Corrected social login auth redirect URL to the official domain (visnalize.com)
🐞 Fixed "View other accounts" section
🐞 Other bug fixes and improvements
Images