Developer
Wiseplay Apps
Updated
Apr 21, 2023
Size
20M
Version
1.1.10
Requirements
5.0
Downloads
50,000+
Get it on
Mod Info
Ads patched/disabled
Run at startup removed
Ad permissions disabled
Receive cloud data removed
Google play billing removed
Ogury consent activity removed
Proxy billing activity removed
Dark mode fixed to keep settings
Advertising ID Permission removed
Bypassed missing ads tamper checks
Ogury Analytics SB activity removed
Google activity recognition removed
Ignore update applied(adaptive only)
Audience network disabled/Dex removed
All android 8 permissions left untouched
Camera permissions disabled/removed(both adaptive)
Adaptive support added for tv devices, app will install directly to home screen apps
*Firestick devices will need to launch once to show on home apps
Description
Wiseplay X is an experimental, lighter, and more compact version of the acclaimed Wiseplay. Just created to play your video playlists simply, without additions. Compatible with m3u and w3u. Load your playlists and start enjoying using our modern, light, and easy-to-use player. You can also send videos to the TV through Chromecast.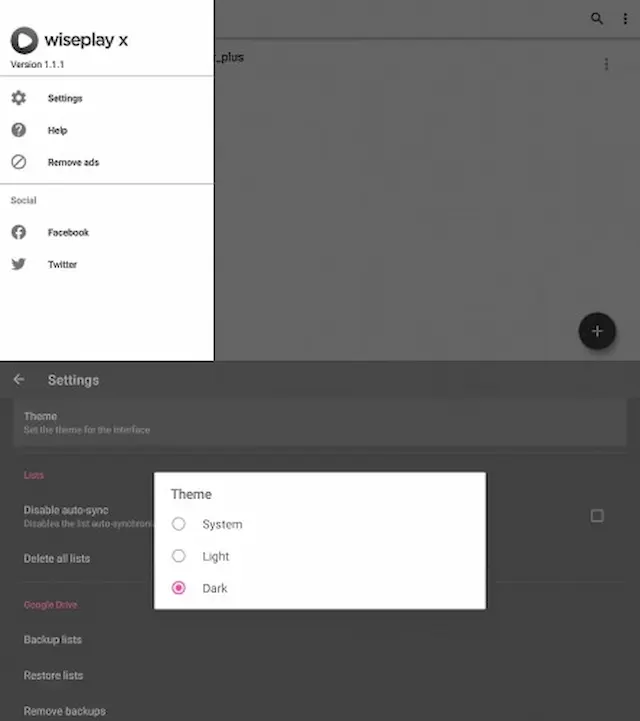 The lightest and most complete smart player:
★Wiseplay X is compatible with the most popular video formats, such as aac, av1, h264, hevc, m3u8, Mkv, mp3, mp4, Ogg, ts, and vp9.
★Load your w3u and m3u video playlists easily. You can do it from a link, a QR code, or a file.
★Send videos to your TV through Chromecast.
★Play videos in HD and 4K quality.
★IPTV Player for your live video streams.
★Easily manage video settings such as the speed, the audio tracks, or the playback progress.
★Wiseplay is free. You can watch your videos ad-free forever by purchasing the Premium version.
★Compatible with subtitles.
★Simple interface that allows you to watch your videos easily. Choose between normal and night mode.
IMPORTANT
The official version of Wiseplay X does not include any content. This means that you must provide your content from your device, playlists, or through the browser. The Wiseplay team does not condone the use of illegal or protected content.
DISCLAIMER OF LIABILITY
– Wiseplay X does not include or provide content.
– Users can use their content or third-party.
– Wiseplay X has no affiliation with any content provider.
– Wiseplay X does not endorse the use of protected content without the permission of its copyright owner.
Images