Developer
Baloota
Released on
Sep 6, 2012
Updated
Oct 29, 2023
Size
16M
Version
3.20.413.66b7
Requirements
4.4
Downloads
50,000,000+
Get it on
Description
With over 40 million downloads, Dumpster Premium APK is the #1 recycling bin for Android! It's the quick, easy way to recover and restore your video and picture files. Accidentally deleted an important photo or video? No problem – you can undelete your media files, apps, and other files in seconds. With flexible cloud storage and added security features, your files are always safe with Dumpster!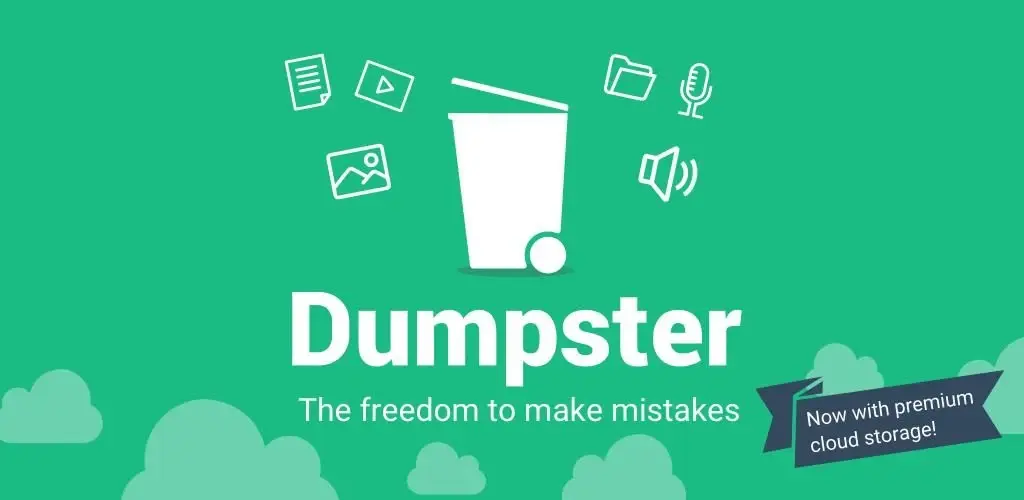 *Features included with a premium account
Backup & recover your files
The dumpster works exactly like a recycle bin for your phone! Once you've downloaded the app, it'll automatically backup your newly deleted data, allowing you to effortlessly undelete files, pictures, and videos – and restore them to your phone! Think of Dumpster as a keepsake for your images, videos & files!
Safeguard your photos & videos
Safeguard your photos, videos, and files with the help of Dumpster's app lock functionality. Available with a premium account, you'll be able to keep your media files safe from outside viewers and protect your Dumpster data with a 4 digit secure access code.
Instantly restore deleted apps
App recovery is simple and instantaneous with Dumpster! Just enter your Dumpster recycle bin, click on the app you wish to undelete, and voila – it will instantly reappear on your device. Dumpster provides backup for all deleted applications, pictures, videos, documents, and more. No matter what you need to undelete, Dumpster can instantly restore it to your device.
Flexible, secure cloud storage
Free up valuable storage space on your device. Dumpster cloud backup is a premium feature, enabling users to save all their deleted items to the Dumpster cloud. Pay for as little or as much cloud storage as you require. Dumpster premium users will also enjoy the bonus of an ads-free experience, free personalized themes, and app lock capabilities.
Find out more!
Check out Dumpster's FAQ section: https://dumpsterapp.mobi/faq
Or contact us at: [email protected]
Download Dumpster for free today – the smart way to protect, backup & restore your images, videos, documents & more!
What's new
And here we have more updates to further improve your experience.
•• We have made the app even smaller which means it takes up less space on your device 🤓
* LOTS of bugs FIXES
Still having issues? Contact [email protected].
We are always happy to help!
Images