Developer
kiddoware
Updated
Sep 18, 2023
Size
13M
Version
1.10.23
Requirements
4.4
Downloads
1,000,000+
Get it on
Description
Kids Safe Browser – Parental Control is specifically designed for KIDS & PARENTS. It's developed to give children a safe browsing experience for android and to keep parents worry-free when they hand their device to their kids. Moreover, it has this remote filtering feature that allows parents to apply web filter settings wherever/whenever.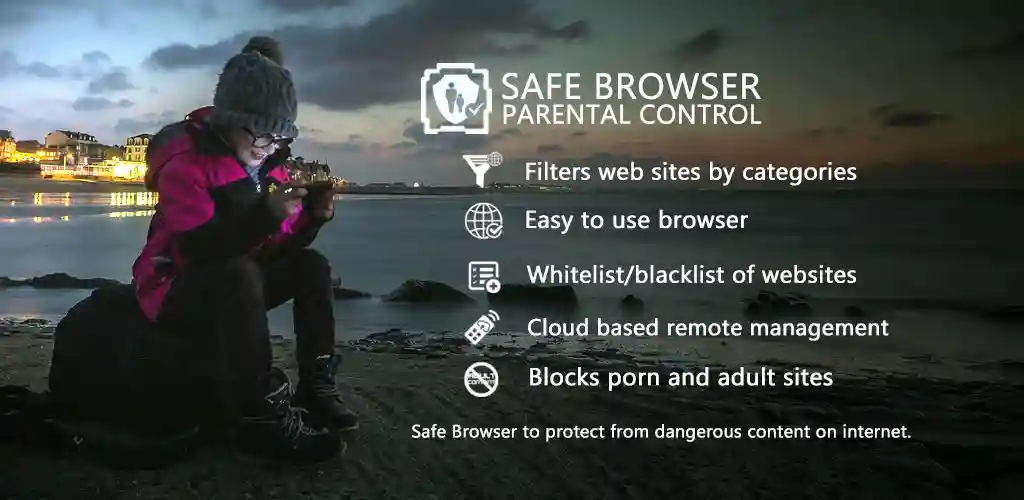 Kids Safe Browser Parental Control app is a cloud-based web content filtering browser. It also provides a kid's safe search engine for safe browsing on the internet. Its parental controls & kids safe search website filter can be remotely configured for young kids; teens and adults to block porn & any other potentially dangerous websites.
❌FILTER CONTENT
This kid's safe search child browser and powerful parental control apps for android offers advanced web/internet filters & superior safe search filter content filtering. This porn blocker blocks smart everything that is not children's safe (blocks adult sites & apps, adult content, porn search results, access internet, block accessibility to adult apps).
THE NEEDED SAFE SEARCH BROWSER APP / TOOL
We know that harmful content is easily accessible. Our kid's safe search browser 18+ is a tool for every parent as it ensures a safe search. Once installed, this parental control app gives a safety net & parental space where you'll have peace of mind. We developed this web filter & content filtering so your kids only browse safe content!
CREATE WHITELIST / BLACKLIST
Its block smart system keeps your kids safe because this kid's safe search engine allows for the creation of a custom whitelist; blacklist for websites/domains and shortcuts to whitelist sites on the home page for ease of use. The porn blocker app is useful for adults and teens with porn addiction issues.
WORKS FLAWLESSLY WITH KIDS PLACE PARENTAL CONTROL
Your kids will be safe surfers & in the kid's zone via our child safe browser app. It is versatile & easily integrated to block a list of websites on your Android devices. It is a plugin to the Kids Place – Parental Control app and adds web content filtering features to it. Superior kids safe search & parental control apps for teenagers free for the android blend to give you a great, universal parental control app!
HELPFUL KIDS SAFE SEARCH BROWSING FEATURES:
1. Block Access to Unsafe Sites
2. Create your own whitelist/blacklist of websites.
3. Set your own web filtering rules.
4. Configure web browser UI
5. Access to settings protected by Kids Place PIN.
6. Free 15 days trial account – no payment information required,
On license expiration, you can purchase a subscription via in-app purchase.
7. Remotely manage web filtering settings from our cloud console at https://browser.kiddoware.com
8. Voice-Based Navigation
MAJOR SECURITY FEATURES OF SAFE KIDS BROWSER FOR ANDROID PARENTAL CONTROLS:
– Blocks Adult sites including pornography, adult content, sex, nudity
– Blocks Unsafe Websites, hosting virus, phishing & spyware
– Block Sites for weapons & gun violence
– Blocksmart online gaming
– Blocks Social-networking, dating & media streaming
– Blocks Gambling Sites
– Safe Browser Parental Control app uses the Device Administrator permission. This is optional but is requested in case parents want to tamper-proof the app for kids.
Stop worrying about what your kids are doing online with this safe browsing security master app. Simply install kids safe search & kids browser today to conveniently block all harmful content.
Note: If you bought the license for this kid's safe mode app for android free & your account is not upgraded immediately, please contact us asap at [email protected]. You may report any issues; comments; feedback; bulk licensing & discounts for educational institutes.
Help/FAQ for the Safe Browser Parental Control app: https://browser.kiddoware.com/help
What's new
Added isMonitoringTool flag in manifest per Play Store Team email.
Images