Developer
Uken Games
Released on
Sep 22, 2020
Updated
Dec 6, 2023
Size
150M
Version
40.0.0
Requirements
6.0
Downloads
1,000,000+
Get it on
Description
Discover a FREE solitaire card game with a blend of PUZZLES, MYSTERY, and ROMANCE in Solitaire Story: Ava's Manor! Relax and have fun as you renovate, decorate, and play engaging solitaire card games in your very own manor. Solve challenging solitaire levels with addictive game elements and dive into an exciting romance story.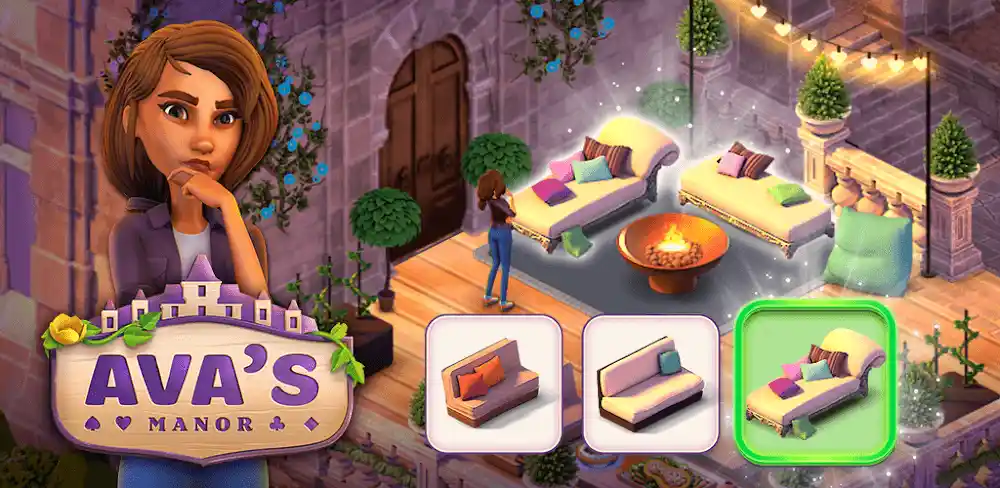 Ava's Manor offers endless hours of solitaire fun with captivating solitaire card games. Renovate and decorate your home while uncovering mysterious clues throughout Ava's journey. Restore her Great Uncle's Manor to its former glory and help Ava find new love interests to overcome writer's block and an old ex back home.
Design your manor with a wide range of unique furniture options. Customize different rooms and unleash your inner decorator as you renovate and decorate your home. Unlock various styles of furniture by playing solitaire card games, uncover hidden treasures, collect clues, and reveal secrets in the Manor.
Experience a perfect mix of mystery and romance as the story unfolds with unexpected twists and turns. Relax with this free solitaire card game and embark on a renovation makeover of your dreams!
Features:
ENDLESS, addictive solitaire card games for free! Renovate, design, and decorate your manor by playing engaging solitaire card games. Discover the manor's mystery as you unlock more clues with each solitaire card game you complete.
RENOVATE, expand, and decorate your Manor and gardens with a variety of decor and furniture styles. Unlock new rooms to renovate and decorate as you progress through the story and solve solitaire card levels.
RELAX with calming solitaire card games and solve thousands of addicting puzzles. Improve your solitaire skills, conquer levels, and unlock power-ups to clear cards and speed through levels. Enjoy new solitaire card game levels with every free update!
ROMANCE is in the air as Ava meets new love interests while trying to move on from her past. Dive into a story game filled with romance and drama.
MYSTERY awaits as you discover clues and progress through the manor's rooms. Solve and unlock Ava's Manor secrets, uncovering her family's intriguing history.
SOLITAIRE card puzzles of varying difficulty to challenge and entertain. Blast through levels faster by unlocking boosters and power-ups, such as the broom, scissors, and torch, to clear card obstacles.
STORY takes center stage as Ava, a talented mystery novelist, seeks to overcome writer's block while solving her own mystery. Unveil new story plot points as you play solitaire card games and continue renovating and decorating the manor.
Ava's Manor is a free solitaire card game full of romance, mystery, and fun. Don't miss out on this exciting adventure!
Stay connected with Ava's Manor:
Facebook: facebook.com/AvasManor
What's new
Ava sets off on a thrilling new adventure. She's crossing the ocean, embracing her newfound success, and ready to capture the essence of her author persona. Meanwhile, the Film Room is ready to reveal its magic.
Continue the story today!
Images