Developer
Medical Group Soft
Updated
Jun 6, 2023
Size
9M
Version
4.8.0
Requirements
5.0
Downloads
1,000+
Get it on
Description
Vitamins and Minerals APK is your comprehensive offline guide to essential nutrients, supplements, and their benefits for optimal health.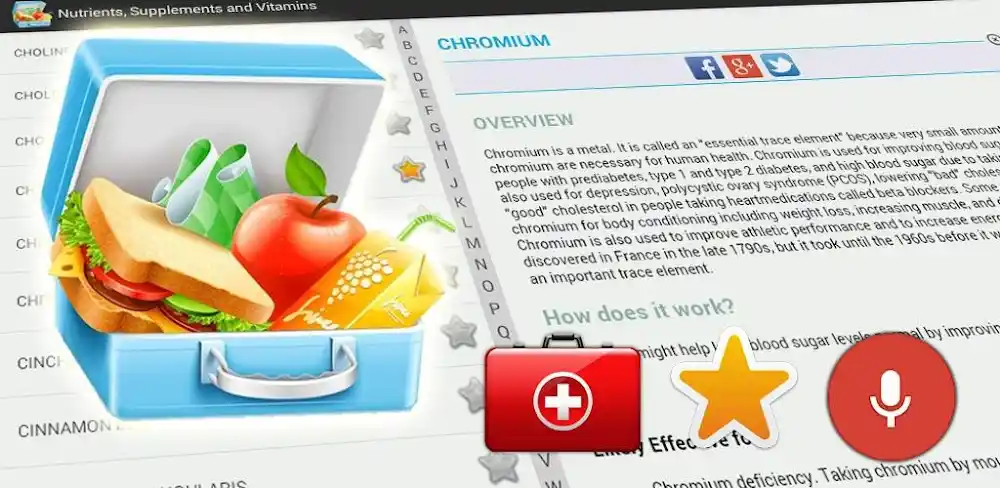 Nutrients, Supplements & Vitamins are essential nutrients because they perform hundreds of roles in the body.
This is dictionary contain advice and information on vitamins, minerals and trace elements essential for health, including:
– what they do;
– how much you need;
– what happens if you have too much;
– safety advice about supplements.
Main Features:
– Offline – It wok offline, no active internet connection is required;
– Detailed description of all major Vitamins and minerals;
– Equipped with quick dynamic search function – The dictionary will start searching for the words while you type;
– Voice search;
– Easy way to share with your friends;
– Bookmark – you are able to bookmark the Disease Terms to your favorites list by clicking on the "star" icon;
– Managing Bookmark Lists – you are able edit your bookmark lists or clear them.
What's new
News:
- Added new descriptions;
- The database has been expanded;
- Improved performance;
- Fixed bugs.
Images