Home /
YuppTV APK (Latest)
2.7.2
Description
YuppTV for AndroidTV APK is one of the largest online TV platforms with over 200+ Live Indian TV Channels, 7 days of catch-up TV, Latest Regional and Bollywood/Hindi Movies.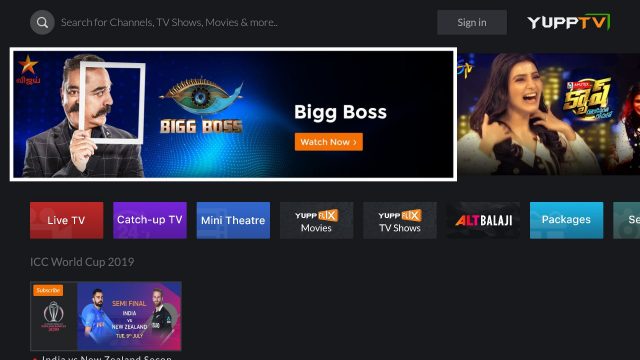 Watch VIVO IPL 2021 Live Streaming on YuppTV
With YuppTV, you can now watch your favorite TV Channels, Movies, VIVO IPL 2021 Live, Programs across various genres such as News, Sports, Comedy, Romance, Family Drama, Crime, Spiritual, Entertainment, and Music on your PCs, Smart TVs, and Smartphones.
Watch VIVO IPL 2021 Live streaming on YuppTV from Australia, Continental Europe, Sri Lanka, Japan, Nepal, South East Asia ( Except Singapore & Malaysia), Central & South America, Central Asia, Bhutan, and Maldives.
Some of the popular channels available are
Hindi – Star Plus, Aaj Tak, NDTV India, Tez News, MTV India, Colors, Sony TV, Zee TV, UTV Movies, Star Bharat, Set Max, Zee Cinema, SUB TV, iTunes, &TV, 9XM, Music India, SONY MAX, Rishtey TV, Bindass TV.
Telugu – Star Maa TV, Gemini TV, Zee Telugu, ETV, ETV Plus, ETV Cinema, ETV Life, NTV, TV5, ABN, Star Maa Movies, Star Maa Gold, Gemini Movies, 10TV, Bhaarat Today, Aradhana TV, Bhakti TV, Pooja TV, Calvary TV, CVR English, CVR News, HMTV, iNews, Jeeyar TV, Mahaa News, Mana TV, OM CVR, Raj News Telugu, Rakshana TV, SVBC Channel, Sakshi TV, Studio N, T News, Tollywood TV, TV 1, TV5 News International, V6 News, Vanitha TV, ETV AP, Gemini Comedy, Star Maa Music.
Tamil – Sun TV, Star Vijay, Jaya TV, Kalaignar TV, Raj TV, KTV, Sirippoli TV, Puthiya Thalaimurai TV, Seithigal, Thanthi TV, Chithiram TV, Captain News, Raj News, Sun Music
Malayalam- Asianet, Surya TV, Kiran TV, Asianet Plus, Jai Hind, Mathrubhumi News, Asianet News, Reporter, Kaumudy TV.
Kannada – Zee Kannada, Asianet Suvarna, ETV Kannada, Udaya TV, Udaya Movies, Udaya Music, Udaya Comedy, Udaya News, Chintu TV, Raj Music Kannada, Suvarna News, Janashri News, News9, Sri Sankara Kannada
Punjabi- PTC Punjabi, Zee Punjabi, PTC Chakde, 9X Tashan, PTC News, Alpha ETC Punjabi
Marathi- Star Pravah, Zee Marathi, Saam, 9x Jhakaas, ETV Marathi, Zee 24 Taas,
Bengali- Star Jalsha, Zee Bengali, ETV Bengali, Ruposhi Bangla, Planet M, Dhoom Music, Sangeet Bangla, Newstime Bangla
Urdu- HUM World TV, Dekho TV, Such TV, Paigham TV, Hadi TV
Gujarati- Colors Gujarati
Tu Maza Sangati, 10 Minute 50 Khabar, Aahuthi, Aamchya Gharat Soonbai Jorat, Aparajita, Apna Uttarakhand, Appa, Ashta Chamma, Astro Uncle, ATTARILLU, Aung Baung Chaung, Bada Ghara Bada Gumara Katha, Bade Chotes Playlist, Balika Vadhu, Bang Bang, Bhabhi's Playlist, Bhule Jeyonaa Please, Blue Dragon, Breakless Band, Byanjonborno, Byomkesh, Chakravarti Samrat Ashok, Chinnari PelliKuturu, CID, Comedy Darbar, Comedy Nights with Kapil, Crime Patrol, Dil SeLive, Durga, Dustak, EeTharam Illalu, Ek Cup Cha, Great Music Gurukul..and more
***Zee and Star Channels are not available in India.
**VIVO IPL 2021 Live Streaming is not available in India.
What's new
We always strive to improve the user experience by tweaking small elements which might not catch your attention always. This particular update is intended to provide hazel free access to all upcoming features and content
Images
Developer's apps