Developer
QuMai Network Technology Co. Ltd.
Released on
Mar 13, 2019
Updated
Oct 25, 2023
Size
50M
Version
4.1.5
Requirements
5.0
Downloads
1,000,000+
Get it on
Description
Instabio is super easy to create multiple links for your Instagram and TikTok. Build and manage your website and online store from anywhere. Tell your unique story and build your brand with Instabio. More than 5 million artists, makers and creative entrepreneurs worldwide have used Instabio to create a website link or online store.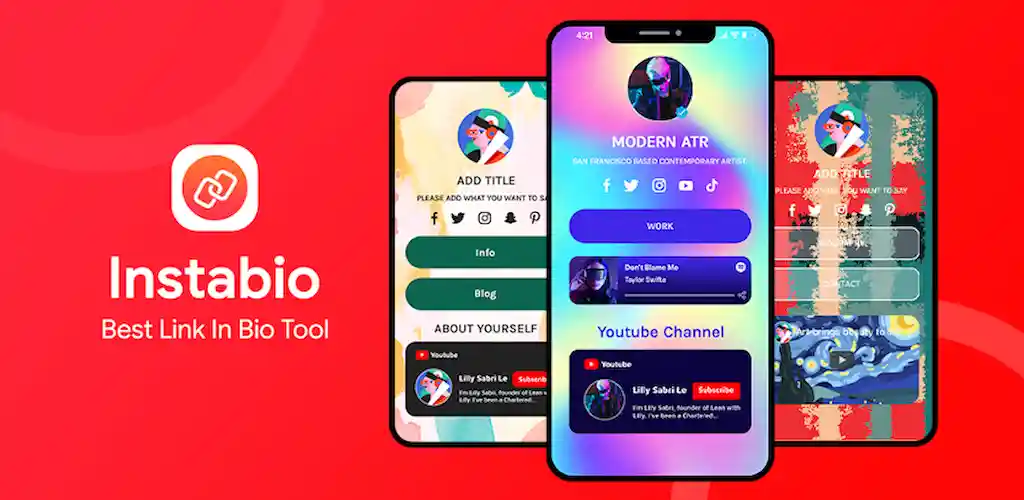 -FEATURE-
■ Create
Create your link in bio:
• Create a link tree with the Instabio App that is cool and brandable.
• Use it on Instagram without changing the link again.
Create your website:
• Create and publish new content, make changes, and update the design of your website effortlessly.
• Use an intuitive drag-and-drop builder designed for touch screens.
Create your online store:
• Use images directly from your photo library or social platforms to add products to your site.
• Customize your website with the same free, responsive theme.
Create profile and blog
• Use the blog post editor to post your thoughts.
• Create your carrd and introduce yourself and the things that surprise you.
Create landing page
• Manage your mailing list and send beautiful emails.
• Keep in touch with visitors.
■ Share
• Share your services, products, passion projects, promotions, recommendations and social information.
• Let followers know about your latest blog posts, podcast shows, e-books and resources.
• Share to business cards, email signatures, brochures, posters, resumes, online profiles, portfolio sites and lists.
■ Promotion
• Promote to social networks, including: Instagram, TikTok, Snapchat, Facebook, YouTube, Pinterest, Twitter, LinkedIn, Twitch, Tumblr, WhatsApp and WeChat.
■ Measure
• More traffic and measure the ROI from Instagram and Tiktok.
• Gain valuable insights, including clicks, pageviews, and sales.
Instagram only gives you a bio link. You can use Instabio to add multiple links to your Instagram Bio and optimize your Instagram traffic.
What's new
1.TikTok Shop: An interactive shopping experience with videos and products to stimulate your fans' participation and transaction rate.
2.Bug fixes and usability improvements throughout the website editing experience.
Images