Microsoft exFAT/NTFS for USB by Paragon Software is a universal non-root method for transferring files between onboard memory of your Android device and Windows or Mac-formatted USB Flash Drive.
Download Also : USB Media Explorer [Paid]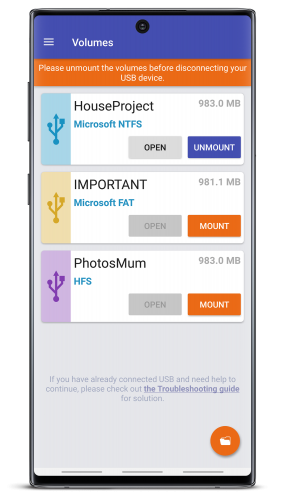 With Paragon File System Link you can
• Get access to external HDD or USB-Stick memory without a PC
• Free up storage space: transfer files from Android smartphones or tablet on a thumb drive
• Mount popular file systems – HFS+ and Microsoft exFAT / NTFS
• Use files directly from USB storage – view photos, listen to music, read books or watch videos
• Copy, Move, Delete and Rename files on USB storage devices using various file managers.
• Stream data from external memory to Google Drive, Microsoft OneDrive, Dropbox or other cloud services
• Share files via Gmail, Telegram, Skype or WhatsApp
HOW IT WORKS
1. Install Microsoft exFAT/NTFS for USB by Paragon Software on your device.
2. Connect a USB flash drive via USB OTG and mount the file system you need.
3. Tap «Browse» button and choose:
a. Open files* to open and view files (media and documents) from USB storage
b. Manage files to copy/move/delete files using a built-in Android file manager.
4. To choose your USB volume, tap on the hamburger menu and choose Paragon File System Link.
Note: some devices may not support "Browse" button functionality due to device configuration restrictions.