Find, download (torrent) & play torrents on your phone or tablet with the official BitTorrent Pro Apk for Android. Get the awesome torrent downloader with no download speed or download size limits. Now downloading torrents to your phone is easy.
Download Also : TorrDroid – Torrent Downloader [Pro]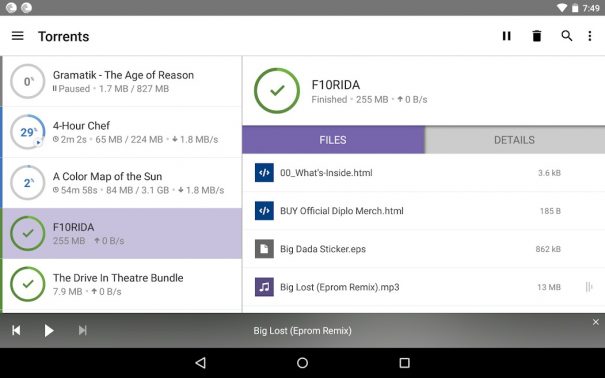 The BitTorrent App for Android is a beautifully simple way to discover, download, and play videos/music, anywhere.
The BitTorrent App for Android has better performance, faster downloads and a more user centric mobile torrenting experience.
We listened to your feedback and updated this latest version with –
✔ Beautifully light, clean design
✔ Wifi-only mode to save on mobile data
✔ No speed limits and no size limits
✔ Easy access to your media with integrated music and video libraries
✔ Select files to download within a torrent to minimize your storage footprint
✔ Better music listening and video viewing experience with integrated music and video players
✔ Auto-shutdown (Pro feature)
More features:
✔ Choose your file download location when adding a torrent
✔ Download torrents and magnet links
✔ Choose between deleting torrents only, or torrents & files
✔ Translations in Pусский, Español, Italiano, Português do Brasil
✔ The very latest in core torrenting technology, continuously updated by dedicated torrent core engineers to maximize performance
✔ Download licensed, free music and video torrents from BitTorrent's content partners such as Moby and Public Enemy– from the get-go.
✔ Downloaded more than one music file in a torrent? Play them all at once as a playlist
✔ Improved download performance improvements and stability. This includes Canonical Peer Priority (reduces the hop length between you and peers in the torrent swarm), and faster handling of magnet link data